That photo of Hisasci Ouchi
If you're intrested in morbid stuff you've probably heard of the story of Hisashi Ouchi, the man who was exposed to a very high dose of radiation and was kept alive for way too long. (to learn more search 1999 Tokaimura nuclear accident) And if you've heard of him, you've certianly seen this gory photo of a man with no skin laying on an hospital bed with suspended limbs.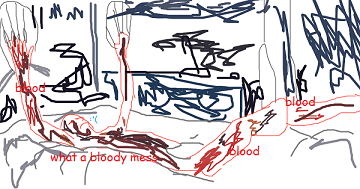 my recreation because the original is very nsfl
Well, IT'S NOT HIM!!! IT'S NOT HIIIIIIIIIIIMMMMMMM. And yet, every damn website uses that photo!! This pisses me off so much. You can tell because the man has an amputated foot, which Mr Ouchi-san coudn't have because the wound would have never closed, all of his chromosones were in pieces! Also, the room and the medical equipment don't match.
The person in the photo is probably a burn victim. Spread the word I guess?